The Land Below the Wind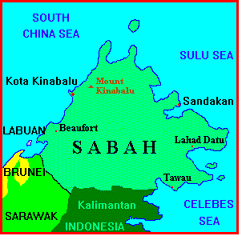 "The Land Below the Wind" as it is sometimes called, Sabah is situated at the top tip of the Borneo Island. Being the thirteenth state of Malaysia, it covers an area of about 74,500 sq. km with a attractive sandy coastline of 1,440 km. Sabah faces the South China Sea towards the West, and towards the east are the Sulu Sea and Celebes Sea. The state inhabits 32 ethnic groups with the Dusuns forming the largest of all to make up the total population of 1.71 million.
The capital of Sabah is Kota Kinabalu (KK) with a population of 301,000. It was once known as Jesselton until it was destroyed during World War II. The tallest mountain in Borneo as well as in the whole of South-east Asia is known as Mt. Kinabalu, which the state capital is named after it.
Economy
Sabah is one of the three states in Malaysia that are rich in oil. It was also once very rich in timber resources. Its other primary exports include timber, cocoa, palm oil, rubber, copra, fish and agricultural products. The mining, manufacturing and quarrying industries have also contributed extensively to its economy. Sabah's strong networks of roads, railways, ports and airports have indeed lead to its economic success.
Tourism
Sabah is a potential tourists' destination with loads of attraction to offer like the Beach, Seafood, Coral Reefs, Mountain climbing, Natural Rainforest, Orang-Utan sanctuary and many others. That is why tourism has played such an important part in Sabah's economic growth.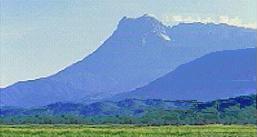 Many tourists come to Sabah among other attractions is to climb Southeast Asia's highest mountain. Towering at a height of 13,455 ft (4,104m), Mt. Kinabalu also known as "Spine of Sabah", is one of the many pride and joy Sabah has to offer to the world.
Tourists can enjoy Hotsprings, Canopy Walkway and Jungle Trekking in one of Sabah's most well preserved rainforest at Danum Valley Conservation Area, while taking in the pleasure of the sights and sounds around them. Some scientists describe the 438 sq. km rainforest as "the greatest expression of life on Earth" because of its incredible biodiversity comprising rich flora and fauna. Some have even remarked that the immense tranquillity of a real jungle world is so deeply felt that man can feel "human" again.
A town called Lahad Datu is located at about 83 km south-east of Kota Kinabalu, where its forest houses 275 species of birds, 110 species of mammals including true wild Orang Utans, five species of deer, bearded wild boars, howling gibbons, giant flying squirrels, flying frogs, magnificent Bulwar pheasants, the Asian elephants and one of Danum's best known beasts, the Sumatran rhinoceros that still roam in its depths.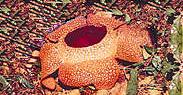 To make the trip to the rainforest even more worthwhile, tourists can witness one of nature's wonders among these centuries-old trees of different shapes and sizes. Sabah is indeed very fortunate to bear the world's largest flower. Lying at a height of about 91 cm, the Rafflesia arnoldi as it is called, was named after Sir Thomas Stamford Raffles who discovered it in Sumatra in 1881. The flower can reach up to 3 feet in diameter and blooms as a single flower which bears no roots, stems and not even leaves. This floral wonder is 1.9 cm or 3/4 inch thick, weighs about 7 kg and has a distinctive pungent smell.
A good venue for rafting is at Padas River which now roars down the slopes producing multiples of exciting rapids.
Unlike neighbouring Sarawak, Sabah doesn't have magnificently huge caves but one that has considerable historical depth which are the Gomantong Caves, situated south-west of Sandakan.
For generations, birds' nests harvested here formed an important source of supplies to China where it had been and still is, a prized delicacy. There are two cave complexes where this all-time favourite 'treasure' can be found. One, the more accessible Simud Hitam, which soars to almost 100 metres high, produces less valuable "black" nests-hardened swiftlet saliva mixed with feathers. Whereas the bigger complex is at Simud Puteh which is more challenging to reach but produces 'white' nests that can fetch a tremendous US$450 per kilo.
The nests are harvested twice each year, the first in February to April and the second in July to September. The dangerous operation, involving the use of rattan ladders, ropes and poles, would prove an interesting sight to any visitor.
Turtles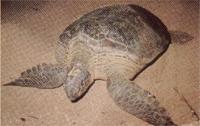 The Hawksbill and Green turtles, the only two species of turtles found in Sabah can be sighted quite easily every night throughout the year, but they are especially plentiful during the peak months between July and October. Once, these fascinating creatures were fast becoming extinct. Their very survival depended very much on the restriction measures taken against hunting and the conservation efforts made by the Malaysian Government about 30 years ago. The Hawksbill turtles were hunted for their shells.
Orang-Utan

This amazingly human-like primate is found only in the islands of Borneo and Sumatra nowadays. Not surprisingly, Sabah (formerly known as British North Borneo) is the best place in the world to see the Red Ape because of a conscious conservation programme going wayback in the 1930's.
Another fascinating creature, the pot-bellied proboscis monkey is also confined to the island of Borneo. Its most distinctive feature is the pendulous nose hanging over its mouth.
Marine Life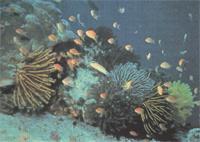 Sabah is world famous for its corel reefs. The best reefs are to be found around Manukan, Mamutik and Sulug island. Excellent reef patches are also found between Pulau Sapi and Pulau Gaya. Many types of Equipment for Scuba Diving can be rented at Diving Centres in Manukan where advice of coral details is also offered. There are various kinds of coral can be found; namely the staghorn, mushroom, cabbage, brain, etc...
Accommodation
There is no shortage of accommodation in Sabah. One can find 5-star to 2-star hotels in most major towns whereas budget hotels, hostel or guest houses are offered in smaller towns. The rate ranges from M$30 to M$650 per night.
Climate
Sabah has a tropical climate with temperatures ranging from 24 to 34 degree Celsius. Extra rainfall can be experienced during the North East Monsoon period (December to February).
Electricity
Electricity Current throughout Malaysia is 230 volts, AC, 50Hz. Plugs are either round or square with two or three-pin types.
Working Hours and Holidays
Government office hour from Mondays to Thursdays is from 8am to 4.15pm but that on Fridays is from 8.30am to 11.30am and then from 2.30pm to 4.45pm. On Saturdays the working time is from 8am to 12.45am. Sunday is a rest day. Banking hours is from 10am to 3pm on weekdays and from 9.30am to 11.30am on Saturdays.
Public Holidays for Year 2011 of Rabbit:
New Year's Day
1st January (Saturday)
Chinese New Year
3rd-4th February (Thu-Fri)
Prophet Mohammad's Birthday
15th February (Tuesday)
Good Friday
22nd April (Friday)
Labour Day
1st-2nd May (Sun-Mon)
Wesak Day
17th May (Tuesday)
Harvest Festival
30th-31st May (Mon-Tue)
Birthday of Seri Paduka Baginda Yang di-Pertuan Agong
4th June (Saturday)
Hari Raya Aidilfitri
30th-31st Aug (Tue-Wed)
National Day
31st August (Wednesday)
Malaysia Day
16th September (Friday)
Birthday of Yang Di-Pertua Sabah
1st October (Saturday)
Deepavali
26th October (Wednesday)
Hari Raya Aidiladha (Haji)
6th-7th Nov (Sun-Mon)
First Day of Hijriah 1433
27th-28th Nov (Sun-Mon)
Christmas Day
25th-26th Dec (Sun-Mon)