The total inhabitants is slightly over 393,700 with seven majority Malay of: Belait, Bisaya, Brunei, Dusun, Kedayan, Murut and Tutong (67%), Chinese (15%) and other indigenous groups of Kadazan, Iban & etc. (8%). On the whole population 70% is below 30 years of age. The yearly population growth rate is 3.5% and the birth mortality rate is 6.9%. The life expectancy is 75.4 years for male while female is 77.7 years. The death rate is about 2.5%. On the whole population the male is 176,039 while female stands at 160,337. According to the statistics given by the authority, the population growth by next decade should touch 436,000.

Languages, MIB and Religion

Bahasa Melayu (Malay) is the official language of Brunei Darussalam and the second language is English which is widely used in Brunei's educational system. English plays a major role in Information Technology which is a must in the 21st century.

Brunei Darussalam embraced Islam since the third Sultan in 13th Century. Freedom of Religion is guaranteed under the Constitution and therefore Christianity and Buddhism are the other two popular religions in the country.

Brunei Darussalam is a fast growing nation with the identity of embodying in the principles of Melayu Islam Beraja (MIB), (berkeluarga, bermasyarakat, berbangsa dan bernegara) means Malay Islamic Monarchy. The concepts are to integrate the language and culture of the Malays in the teaching of Islam and the sovereignty of the monarchy.

Brief History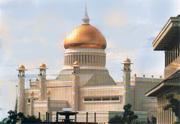 According to history, Islam was first established in the Malay Archipelago as early as the 6th century. The first Sultan of Brunei, Awang Alak Betatar, son of Sang Aji, had embraced Islam and named himself Sultan Muhammad in the 14th. The first mosque was built by the third Sultan by the name of Sultan Sharif Ali or Paduka Seri Sultan Berkat who married the daughter of the second Sultan of Brunei, Sultan Ahmad. The other notable Sultans who further enhanced the MIB concepts were: Sultan Bolkiah in the 15th century, who had colonised countries as far as Luzon island, Sultan Muhammad Hasan in the 16th century and Sultan Husin Kamaluddin in the 18th century. But by far the most remarkable Sultan was Sultan Haji Omar Ali Saifuddien III who instituted strong foundations of formal Islamic education in schools and all sectors to further enhance this concept. During his reign a mosque named after him as Omar Ali Saifuddien Mosque (inset), was built in 1958. It is one of the most magnificent mosques in Southeast Asia. It symbols the strong of Islamic faith of the people of Brunei Darussalam. After the independence of Brunei in 1984, the rooted MIB national concept was officially declared by the present Sultan, His Majesty Sultan Haji Hassanal Bolkiah Mu'izzaddin Waddaulah. This guiding light will continue to move from strength to strength, spiritually and materially to withstand against all odds in order to maintain a truly peaceful, harmonious and progressive Monarchy.
International Member
Brunei Darussalam is a member of the United Nations, WTO, WHO, Commonwealth, APEC, ASEAN, EAEC, CITES and...
Economic
Brunei is ranked as the richest economy and third biggest spender among the developing Asia Pacific economies, according to a report by the Asian Development Bank. It stated that "Brunei was the richest economy with a per capita GDP of US$34,629.00 or BND$49,866.92 (rate as at Dec 10, 2007) which is more than 13 times the regional average which is US$ 2,621 and more than 40 times larger than the lowest ranked economy, Nepal the region's poorest. Its riches come from the exports of Crude Oil & Natural Gas. Crude oil was found in 1929 by Shell Petroleum Company at Seria town which is 10 km from Kuala Belait in the Belait district. The company is now known as Brunei Shell Petroleum Company Sdn. Bhd. (BSP). The extraction of Natural Gas has started since 1973 and the company, which is based in Lumut, was named Brunei Liquified Natural Gas (BLNG). At last Brunei has its own oil and gas company called Brunei Petroleum Company which was formed in 2001. Mr Haji Hamdillah bin Haji Abdul Wahab (Dato) was appointed the first Bruneian CEO of BLNG on 1st December, 2000-2005. Due to recent rise in oil prices between (2007) U$60 to U$90 per barrel, the government has stepped up the offshore and onshore exploration to optimise production of oil and gas in the country. Oil in Brunei may only last for another 30 years. The government has stepped up the drive of being less dependent on Oil and Gas by diversifying towards Information and Communication Technology (ICT) hub, e-Commerce, tourism, SMEs, light industries, agriculture, manufacturing, harbour and other services to boost the economy of the country. The Methanol Plant is one of the mega projects from this initiative. It is called The Brunei Methanol Company (BMC), a joint venture between Mitsubishi Gas Chemical, Petroleum Brunei and Itochu Corporation. It is situated at SPARK (Sungai Liang Industrial Park) as a world class industrial park at Lumut near BLNG. Its infra structure had began on fourth quarter of 2007 and When completed in 2010, it will be the third largest industry after oil (BSP) and gas (LNG) industries in the country.
Brunei has no foreign debts and has substantially large foreign reserves which is entrusted with the management of Brunei Investment Agency (BIA). There is no income tax except import duties on luxury goods (5-20%) such as tobacco, textile, cosmetics, perfumery, electrical goods and machine parts, auto parts, timber products, motor vehicles and some others products. Petroleum, sugar, rice and many essential goods are subsidised by Government. All types of Personal Computer are exempted from tax. There is a corporate tax of 30% on all limited companies.
The infrastructure of the country is in place. It has one of the best telephone communication systems and the highways are effectively planned. The seaport has been modernised. Brunei is relatively a young but aggressive country.
Brunei grandly hosted Asia Pacific Economic Cooperation (APEC) 2000. Tourism is Brunei is on the move. No doubt Visit Brunei in Year 2001 has ended but this industry will definately be brighter each year as it has more and more places of interest to offer. The GDP per capital is around US$ 14,800, the second highest in ASEAN and fourth in ASIA. The value currency of Brunei is at par with Singapore dollars.
Brunei Shell Petroleum (BSP) used to be the sole producer since 1929. One billionth barrel of oil was extracted in 1994. In late 1980's Elf of France partnership with local company has ventured into oil exploration.
Banking
There are seven international commercial Banks namely: Citibank, Malayan Banking Group, HSBC Bank, RHB Bank, Standard Chartered and United Overseas Bank (UOB), and two local banks- Bank Islamic Brunei Darussalam (BIBD) and Baiduri Bank Group, and three finance companies, totalling 30 branches operating throughout the country. Its currency is at par with Singapore Dollars. The denominations are $1, $5, $10, $25, $50, $100, $500, $1,000 and $10,000 while coins are 1, 5 10, 20 and 50 cent.
Banking hours is generally from 9 am to 3 pm on weekdays except Saturday till 11 am.
Electricity
Electricity Current of Brunei is 230 volts, AC, 50Hz. Plugs are either round or square with two or three-pin types.
Judiciary
The British judicial plays an important role in the Legal system of the country. The legal system is primarily based on the English Common Law which is also practiced by the Governments of Singapore, Malaysia and Australia. Brunei's Companies Act is similar to Company Law based on the English legislation. Matters pertaining to the Islamic faith are dealt with by the Islamic courts. Periodically amendments are made for maintaining the security and peace in the country. It is a dead sentence for possessing a hand gun and/or more than 600 mg of illicit drug. Mischief by fire or any explosive device substances intending to cause, or knowing it to be likely to cause, damage to any property is punishable by death if such an act cause death to any person. Public entertainment requires prior written permission. Offenders will be fined up to B$10,000. The sales of liquor is strictly prohibited in the country. Non Muslims are only allowed to purchase limited amount of liquor from the neighboring countries for their personal consumption only. Other lighter offenses will be imprisonment and caned. There is copyright law in the country to protect Intellectual Properties (IP). Any offender will be prosecuted.
Working Hours and Holidays
The Brunei Government office hour from Monday to Thursday and Saturday is from 7.30 am to Noon and 1 pm to 4.30 pm but close on Friday. Sunday is a rest day. Most shops close on Sunday in Brunei. For working shoppers in Belait district some shops in Kuala Belait close on Tuesday while others in Seria close on Monday.
Fixed Yearly Public Holidays:
| | |
| --- | --- |
| New Year's Day | 1st January |
| National Day | 23rd February |
| Anniversary of the Royal Brunei Malay Regiment | 31st May |
| H.M. The Sultan's Birthday | 15th July |
| Christmas Day | 25th December |
Public Holidays for Year 2011 of Rabbit:
New Year's Day
1st January (Saturday)
Chinese New Year
3rd February (Thursday)
Prophet Mohammad's Birthday
15th February (Tuesday)
27th National Day
23rd February (Wednesday)
Anniversary of the Royal Brunei Armed Forces
31st May (Tuesday)
Israk Mikraj
29th June (Wednesday)
H.M. The Sultan's 65th Birthday
15th July (Friday)
First Day of Ramadan (Puasa)
1st August (Monday)
Anniversary of The Revelation of The Holy Quran
17th August (Wednesday)
Hari Raya Aidilfitri
30th-31st August (Tue-Wed)
Hari Raya Aidiladha (Haji)
6th-7th November (Sun-Mon)
First Day of Hijriah 1433
27th-28th November (Sun-Mon)
Christmas Day
25th-26th December (Sun-Mon)
Healthcare
Healthcare in Brunei celebrated its centennial anniversary in year 2007. A book named 100th of Caring was launched by His Majesty on 15th Noverber 2007 (Thursday) to commemorating this auspicious occasion of Brunei's health services. All citizens of Brunei receive Free healthcare. All hospitals are equipped with modern high-tech equipment. There are four major hospitals in the country. The main hospital in the capital is the Raja Isteri Pengiran Anak Saleha Hospital (RIPAS) named after the present Queen. The second hospital in Kuala Belait District is The Suri Seri Begawan Hospital (SSB) named after the 28th Sultan. The third hospital in Temburong District is called Pengiran Isteri Hajjah Mariam Hospital named after the former second Queen. The fourth hospital is Tutong Hospital is named after the present Crown Prince Hospital Pengiran Muda Makhota Pengiran Muda Haji Al Muhtadee Billah. There are many clinics throughout the country including the "Flying Doctors" to care the people in the rural areas. There is a nursing college named after eldest Princess HRH Rashida Nursing College where local nurses are trained. There is private medical center named Jerudong Park Medical Centre (JPMC) where major operations such as open heart surgery and others are performed. Sufferers of rhinosinusitis (Sinusitis) will soon be relieved as they soon used Balloon SinuplastyTM system. It is managed by Singaporean. There are many private out-patient clinics and dental clinics throughout the country. The birth mortality is one of the lowest in the region.
Education
There are over 170 government schools, one university (University of Brunei Darussalam-UBD), a technical institute (Technical Institute of Brunei-ITB), a nursing college, an agricultural training center, a mechanical training center, a number of trade schools, vocational schools and private Information Technology (IT) institutes. There are about 15 private schools in Brunei and one international school. Education is totally freed for its citizens in all Government education sectors. English is the main language in education.
Malay Language is the National Language and it is compulsory, Islamic Studies, Religious Knowledge and the understanding of Melayu Islamic Beraja (MIB) or Malay Islamic Monarchy to all curriculum of the schools.
There are quite a number of schools have introduced Computer Studies in Brunei Cambridge GCE "O" Level Examination (British Standard). To be in line with the promotion of IT in the country, all schools have their respective computer facilities.
The school systems are six years in primary, three years in secondary, 2 years in upper secondary which is Brunei Cambridge GCE "O" Level (British Standard) and two years Pre-university which is Brunei Cambridge GCE "A" Level (British Standard). A total of 13 years of education before entering university.
Hotels, Restaurants and Supermarkets
There are a number of five star Hotels down to smaller and budget hotels. The services of some hotels are second to none as they had served many Head of States, world Dignitaries and VIPs during the APEC Summit. Turning our attention to local cuisine, Restaurants in Brunei are one of the best in the region. All types of food are served here and very reasonably priced. International Fast-Food chains and all types of Carbonated Drinks are found here. Supermarkets in Brunei are of international standards as all varieties of air-flown fruits, meat, vegetables, canned foods, confectioneries and other products are imported either directly from its country of origin or through Singapore.
Shopping
There are three shopping Malls and over ten large departmentals stores and supermarkets throughout the country. Boutique shops selling branded goods are open to serve tourists and locals alike, making shopping in Brunei a pleasure. There are many Locally hand-made products that are attractive as souvenir.
Transportation
The infrastructure of public transport is all in place, be it land, air or sea. On land, there are many highways linking the country. All the Cars in Brunei are imported and therefore all famous branded cars are on Brunei roads. The car market in the Sultanate was highly saturated, where the ratio was one car for 2.7 persons, which is one of the highest in the world. There are about 150,000 vehicles on Brunei's roads. For the past five years, (2002-2007) the average registration for new vehicles have increased from 11,000 to 13,000 units per year.There are taxis, buses and car rental services. By air, Brunei has an international airport where many international Airlines make transit here. Brunei has its own national carriers called The Royal Brunei Airlines (RBA) with routes to more than 20 destinations worldwide. There are more than thirty Travel Agents in Brunei to serve travelers, making bookings simple. Brunei has an up-to-date Postal Service and most of the international Courier services are all here. By sea, Brunei has one of the best seaports in the region. It joins venture with Ports Authority of Singapore (PSA) from 2002 to 2006 in order to offer top class services in the region.
2nd Visit Brunei Year 2009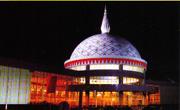 The first Visit Brunei Year (VBY) was in 2001 and second up coming Visit Brunei Year will be in 2009. The government has geared up for its tourism. It is most timely that Brunei Darussalam was admitted as one of United Nations World Tourism Organisation countries on 2007. The UNWTO has admitted three new members during the 17th General Assembly (held November 23-29) in the Fortified City of Cartagena, bringing up the number of member states to 153. The major tourist attractions are: The Omar Ali Saifuddien Mosque, The Jame 'Asr Hassanal Bolkiah Mosque, The Royal Palace Istana Nurul Iman; The Royal Ceremonial Hall; The Royal Regalia (inset); The Yayasan Sultan Hassanal Bolkiah Foundation Complex; The Kampong Ayer (Water Village) or The Venice of the East; The Art and Handicrafts Center; Brunei History Center; Jerudong Amusement Park; Brunei Museum Kota Batu; The Seria Oilfields; One Billionth Barrel Monument; Labi Longhouses; The Tasek Merimbun (Lake Merimbun); Temburong National Park, a haven for Natural-Lovers. As a result of a more serious commitment, Brunei Darussalam will contribute 60 per cent of its land area in the Heart of Borneo (HOB) Project - a joint trilateral initiative spearheaded by Indonesia, Malaysia and Brunei Darussalam. The project aims to conserve 220,000 sq km. of our tropical rainforest with the National Implementation Plan launched on December 2007. HOB's friendly donors will hopefully solicit funds to contribute partly to financing less than 30 projects in Brunei Darussalam. Click here for more...
Sports and Recreations

Brunei is active in a number of sports like football, polo, billiard, shooting, golf, badminton, bowling... and several International Championships are held here every year. The most rewarding was the winning of the Malaysia Cup in 1999. It took Brunei Football Team twenty years to earn it. On December 1st through 5th. 1999, Brunei hosted the Baiduri World Grand Prix Badminton sponsored mainly by Baiduri Bank. Another great achievement was successfully play host for the 20th SEA Games in 1999. On 2nd March 2000, a team called La Patrouille de France held a spectacular display of aerobatics Air Show in Brunei. First time in the history of Brunei, Peter Pan from Canada, had thrilled the people of Brunei on 17th to 20th March, 2000. Another yet unmistakably dazzling show called "Disney on Ice" by Walt Disney performed in Brunei on April 21st to 26th, 2000. Their skaters were top ranking world athletes. Yearly many trade fair, exhibitions and other grand shows never fail to choose Brunei as their host country.
Stay tuned for further updates!